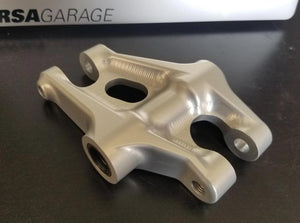 Product Spotlight: The Corsa Garage 748-998 to 848-1198 Swing Arm Swap Conversion Rocker
This is the missing piece that is needed to properly achieve the Ducati 748-998 to 848-1198 swing arm conversion. Our suspension rocker is designed to work with the original geometry and physics of the 1098-1198 swing arm and rear suspension while being perfectly adapted to the 748-998 chassis. This allows you to gain the same length as the 996RS type swing arm. Unlike other adapter solutions out there, this design perfectly aligns the rear shock as intended and even has the proper offsets and clearance for the use of an Ohlins TTX upgrade. Get yours by clicking here!
FOLLOW US ON INSTAGRAM!
We offer Instagram only specials so don't miss out!
We are authorized dealers for